In February thru April 2023, Ohai Tonga is delighted to offer the "My Climate Change Story Master Class" workshop to build capacity for youth in Fiji, Tonga, Tuvalu, Kiribati, and Nauru.
The "My Climate Change Story Master Class" class will teach participants how to create their own video and photographs to show how climate change is impacting their community. Through an engaging series of classes taught by professional photographers/videographers, artists, and international climate change experts, participants will learn skills to create a compelling "My Climate Change Story." Participants should have access to a smartphone that can record video or photos. The videos and photos created by participants may be shown in local and international forums.
We recorded the Introductory Session for those of you who were not able to attend. Kindly watch the Opening Session below. Also posted on this page is Activity # 1, which will help you design your video. Thank you. 
About Your Instructors
Dr. David Sattler: Award-winning photographer and university professor, international climate change researcher with expertise in Pacific island nations, Climate Reality Project Leader. Photography website
Rhys Logan: Award-winning photographer/videographer with more than a decade of experience working at a university and news media, including projects in Tonga and Mongolia documenting climate change. Photography website
Uili Lousi: Internationally renowned Tongan artist and climate change activist with extensive international experience addressing climate change in Pacific Island countries, Climate Reality Project Leader.
Debra Allan: Extensive expertise in food security issues and climate change in Tonga, international aid and program development, climate change mitigation in the Pacific, Climate Reality Project Leader
Video Tutorials: My Climate Change Story Master Class
Activity #1. Click here to download Activity #1.
Creating Your Story: Types of Shots
by Rhys Logan
Audio: Recording Quality Narration and Sounds
by Rhys Logan
Recording of Introductory Session on Zoom: My Climate Change Story Master Class

Participants will receive a Certificate of Completion upon successful completion of the "My Climate Change Story Master Class."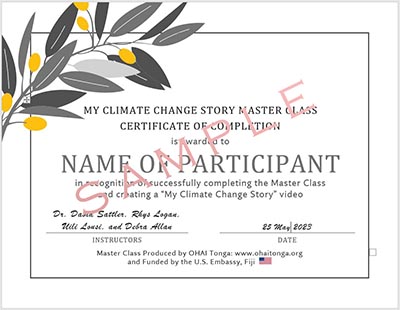 We are active participants at United Nations Climate Change Conferences.
All materials copyright © 2023 by David N. Sattler and Rhys Logan. All rights reserved.
Funding for the "My Climate Change Story Master Class" provided by the U.S. Embassy, Fiji.